A Perfect Two Bedroom Summer Home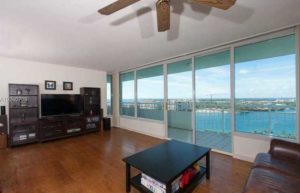 Just a couple of days remains before the arrival of May, which means the warm temperatures of summer will follow in June. If there is one place that's perfect for a summer getaway, it's safe to say Miami Beach is probably number one. Thanks to condos like the South Pointe Tower, the perfect summer escape is just a matter of finding the ideal unit.
To help you find a summer condo home, we're highlighting Unit #1909 at the South Pointe Tower condo. This incredible corner unit has two bedrooms and bathrooms plus more than 1,200 square feet of living area. One of the many highlights of the unit is the wrap balcony that allows for stunning vistas in virtually every direction. Admire the skyline while you're preparing a meal for lunch in the updated kitchen, wake up to the glorious sunshine draping the city from the master bedroom, it truly is spectacular.
South Pointe Tower is part of the exclusive collection of "SoFi" South Beach condos, boasting just the right of amenities to complement the absolutely fabulous living experience. Keep the muscles toned at the fitness center, stay cool in one of the two pools when the temperatures start to rise, play some tennis, there is lots to enjoy. You can also walk to the beach or explore the many different hotspots throughout the South Beach area.
This update is presented by the Miami Beach real estate team at Blackstone International Realty, specializing in South Pointe Tower. If you are interested in South Beach condos such as the South Pointe Tower condos for sale, call 305-588-2451 for information on South Pointe Tower sales and rentals.